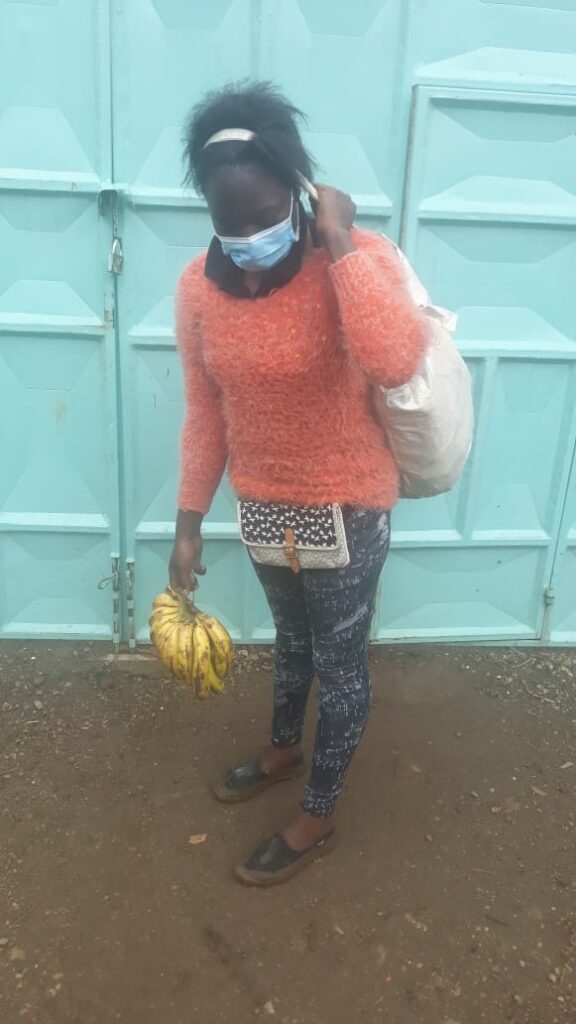 Financial instability is one of the reasons why victims of domestic violence fail to leave their marriages. Its a tough place to be in.
This was my second month into separation, October 2020. Fruits and vegetable deliveries was my Weekend hustle I had started it same year in June. This same hustle triggered the physical abuse that happened on 8th same month. I had left early to go to the market and that morning I didn't serve tea/ coffee as usual, and you know we were on church corporate fasting. So the anger kept leaking from Saturday through to Monday, then at night it rained blows- am blaming the anger, us Christians we don't fight in our marriages, no we don't and again where do we get the strength when fasting.
About this picture.
I will not say it speaks resilience to me.
I will not even say it speaks a strong woman to me, no am not strong.
It speaks to me the language of a woman who gotta do what they gotta do even when they're crawling.
I had shared before that for abusive marriages you can never plan an exit because you don't know when it will happen. In my case when it happened for the second time yaani physical, I got scared and asked "what if it happens the 3rd time? " And then my brother said yes to Jesus, oooh what a joy it was! I even testified and sang my heart out, I said I have a song to crown it all yaani niko na kapambio pia.😊
But the devil is who, he caused the 3rd one.
Onto our topic
You see because we can't plan an exit from an abusive relationships most times, one won't be able to plan themselves financially too.
Most times the victims leave and start from zero, you may be running a business or employed but the expenses remains the same. And now it's one source of income.
A victim of abuse may sit, weigh and say " Bora analipia watoto school fees na rent, nitavumilia" (as long as he's paying rent and school fees, I'll put up with it) And so they stay on, just existing, very present physically but absent as long as the marriage lasts.
Sad state.
Financially incapacitated.
Am always incapable of telling someone who's asking to leave an abusive marriage to weigh things,stabilise then leave. I think one should ask themselves, what's safer.
I fear dying in the hands of a man. Am the type who can panick and die seated, by the time they lift a knife am gone. By the time I left, that's how scared I felt each day. And we never know when they'll get angry or when we'll annoy them.
So exiting with zero financial plan is the hardest place to be in as a victim of domestic abuse. you're torn between, healing, taking care of the children, handling the house affairs and staying sane. Till date, the first thing I thank God for each time is – being sane.
Thank God if you're employed, you'd only need to cut costs. I did so too. I did 50% cost cutting. I even cut my hair 😊 I don't know when I'll go back to the salon. I took my children to a public school, and they're doing well.
The sad part is when you're unemployed and nothing running bringing income, it's tough. In this case it would be liberating if you come from a supportive family who'll carry you along as you get back on your feet. But darlin you don't stay in that abusive space because you're jobless yet your family is ready to receive you back. You don't have to.
When the shared pic was taken, I had my younger brother and sister staying with me and they lasted 3 months in my house. I tell you when they left, I only did my veggies delivery for 1 month. Their presence kinda made me burry my pains and I thought I was OK.
Running a side hustle, mothering, being an employee and taking care of myself mentally weighed me down. One Saturday, I have my clients list of items to be delivered but I just couldn't lift my head, I was numb, frail and lacked motivation. I had to call the clients and told them, am unwell refunded the cash because I knew so well, I needed to face my shit. Start therapy.
For the victim of abuse, as much as they're supposed to be strong at least for their kids, it's hard for them to handle many aspects of their lives. They need support. There's a Web of confusion, they're so unsure and unstable mentally.
Transitioning is very hard when one is financially unstable. I keep thanking God for everyone who cushioned me financially through it all. I earnestly keep praying for the victims of abuse who've just left and the world around them is dry and deserted. It's a hard place to be in.
Sometimes it's OK to start where you are, as things fall into place. It's ok to receive even if earlier you were more of a giver. During my season I learnt to receive and let pride flying off the window.
And whatever your hands findeth to do, do it diligently as though doing to the Lord. I learnt to make liquid detergent and handwash in my season am still making and selling, I learnt to source for baby clothes and sell and even ladies clothes …Though I had to pause due to work situation; stock still available.
In this season of financially instability have a teachable spirit. Dethrone yourself off every pride and know it all attitude. Learn and keep learning. Be receptive but to things that will transform your life in a positive way. It gets better with time.
Tap into your talents.
You're out of unhealthy environment. Do what makes you happy and can make you earn something. Thou shall not let your children go hungry, it's not good for them. And again the enemy and his agents love it when you're stuck and defeated. Even if it's ugali skuma daily, you won't die, confuse it with avocado.😊 keep going.
And to the women let no man confuse you when you're in this season. You see you're seeing things in terms of pesa. This is when "I'll take you with your children"is appealing. Don't let them in due to financial instability, let them pass. Let the one who'll find you whole, sweep you off your feet but not now..
We keep rising🤜
~ Emily Omondi